AMERICA'S MOST HAUNTED NEIGHBORHOOD TOUR
America's Grandest Victorian Neighborhood
Daily Walking Tours – March 15 – November 15
7:30 pm
$20
America's Most Haunted Neighborhood Tour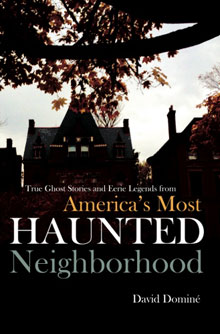 The most haunted neighborhood in America? That's what many are calling Old Louisville, an extensive preservation district filled with old mansions and strikingly beautiful homes in Kentucky's largest city. Wherever you go in this eye-popping neighborhood, it seems that a haunted house is not far away. Or a haunted church, a haunted street corner, or a haunted park. Over the last two decades, so many stories of supernatural activity have surfaced here that Old Louisville has gained the reputation as being the spookiest neighborhood in the entire country.
Join a guide for this nightly tour that introduces you to the ghostly past and paranormal hotspots in America's Most Haunted Neighborhood. Best enjoyed against the backdrop of gas lamps and hidden walking courts, this haunted history tour has received awards and accolades from national and international publications.
Offered daily at 7:30 pm, allow approximately 90 minutes for this walking tour. $20 per person. This tour is based on David Dominé's book True Ghost Stories and Eerie Legends from America's Most Haunted Neighborhood. You may buy the book here.
Last-minute reservations are not a problem.
Light rain? Bring an umbrella and we'll still do the tour!
Well-behaved dogs are welcome.
March 15 – November 15
Daily Walking Tours – 11 am, 1 & 7:30 pm
Private Tours – Available for small groups
Step-on Services – Available for your coach
Interested in a walking tour during the off-season?
Call and we'll try to set something up for you.
Phone: (502) 718-2764
or email us
Download our PDF brochure here.
We also offer private tours for small groups and step-on services for your coach. Tours are offered year round, rain or shine, however the schedule is subject to change.
All walking tours start at Smokey's Bean Coffee Shop at 1212 South Fourth Street, which is a block and a half north of Central Park. Ample street parking is available on Fourth Street. Call or text: (502) 718-2764 for more information.