A Dark Room in Glitter Ball City Focuses National Attention on Old Louisville, Kentucky
New Book Showcases Infamous "Murder House"
LOUISVILLE, Kentucky, September 2, 2021—When residents of Kentucky's largest city awoke to the news of a grisly murder one morning, they probably didn't suspect it would become the subject of a book creating national buzz. But more than ten years later, the true crime memoir A Dark Room in Glitter Ball City by David Dominé is already making a splash ahead of its official release date of October 5. Focusing on the horrific murder of Jamie Carroll and the trials of accused killers Joey Banis and Jeffrey Mundt, the 360-page book attempts to shed light on the motives behind the crime while painting a colorful picture of those affected and the neighborhood where it occurred. According to Publishers Weekly, which gave "Glitter Ball City" a coveted "starred" review, "Dominé provides an enthralling deep dive into a bizarre murder case, enhanced by his eyewitness account of the resulting trials. He gives this colorful case the detailed attention it merits. Fans of Midnight in the Garden of Good and Evil will be captivated."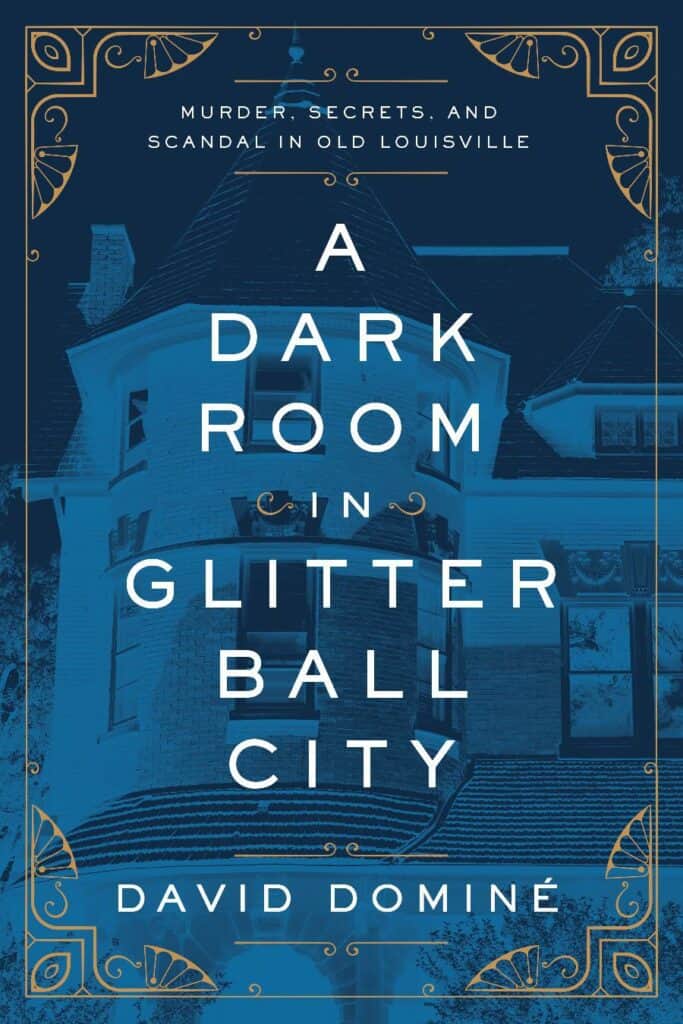 The Fourth Street mansion where police dug the body of Jamie Carroll out of a dirt floor in the wine cellar the morning of June 18, 2010, has appeared on numerous true-crime shows such as A&E's The First 48 and Hell House and Deadly Sins on the ID Channel. It is also a popular stop on nightly tours offered by Louisville Historic Tours—whose guided walks The New York Times recommends as the first thing not to miss during a visitor's "36 Hours in Louisville." Dominé himself often appears to lead the tours, which have been selling out weeks in advance due to the publicity generated by A Dark Room in Glitter Ball City. "I love showing off this neighborhood with its beautiful mansions and quirky history," says Dominé. "And it's been great meeting all the people showing up for tours because they want to find out more about the story surrounding the tragic death of Jamie Carroll." Dominé reports that although many locals sign up for the tours, about three-quarters of ticket sales are from people who live outside of Kentucky. "We get people from all over the country—and from abroad as well—and they're always impressed by Old Louisville," he says. "It's not surprising we're getting attention at the national level."
Available for order on Amazon.com. Please click here to purchase.
For more information, email info@louisvillehistorictours.com or call 502-718-2764.
Reviews of A Dark Room in Glitter Ball City:
"This expertly crafted and crisply written true-crime novel—part investigative report, and part memoir—had me reading late into the night, alternately biting my nails in anticipation of the next ominous turn, and eagerly awaiting the reentrance of quirky neighbors, eccentric friends, and shifty, clandestine acquaintances." —Kelly Creagh, author of The Nevermore Trilogy
"Rich with details about Victorian architecture, splendid food, and traditional drink, Dominé's world spins between the poles of pleasant congeniality and murderous cruelty." —Sena Jeter Naslund, author of Ahab's Wife, Four Spirits, Adam & Eve, and The Fountain of St. James Court
"In the wicked, true crime vein of Midnight in the Garden of Good and Evil, David Dominé's A Dark Room in Glitter Ball City conjures an atmosphere of murder and intrigue that is just too heinous and bizarre to be true. Yet it is! Every unbelievable chapter. My advice: Kick up your feet and treat yourself to this fantastic read. And oh, crush some ice and enjoy it with a mint julep or two." —James Markert, author of Midnight at the Tuscany Hotel
"David Dominé is a treasure finder; discovering the tragic, farcical, infuriating, and heartbreaking backstory of one of Louisville's most notorious murders. So, grab your favorite bourbon and stiletto heels. It's going to be a wild ride!" —Beverly Bell, author of The Murder of Marion Miley
"A shocking and twisted story you need to read. This disturbing tale left me thinking about it long after I stopped reading." —Rose Pressey, USA Today bestselling author
About Louisville Historic Tours:
From March through November, Louisville Historic Tours offers curated architecture and haunted history walks designed to showcase the Victorian heritage and quirky residents of Old Louisville four times a day, seven days a week. Like many industries in the state, tourism took a significant hit because of COVID-19, however David Dominé, owner of Louisville Historic Tours, used the time to increase his web presence and attract interest. Since 2004, he has shown off the neighborhood to more than 50,000 visitors—locals and out-of-towners alike.
Anyone looking to discover this captivating neighborhood or see up close and personal the sites made famous in Dominé's books can purchase tickets for daily walking tours on TripAdvisor, where they consistently rank as one of the most recommended and best reviewed activities in the city. Ticket prices range from $15-$25. Guided walks at 11AM and 1PM focus on the Victorian architecture and lore, while 7:30PM and 9:15PM tours highlight local haunted history. Evening tour-goers halt in front of the château-inspired townhome where Dominé lived and began writing his books. Other popular sights include Conrad's Castle on St. James Court, the Pink Palace, the Witches' Tree—and, of course, the infamous "Murder House" that is the subject of his newest book. 
About Old Louisville:
Many people don't think of impressive 19th-century architecture or splendid Victorian mansions when they think of Louisville; however, this is changing as the word spreads about the colorful downtown neighborhood of Old Louisville, known as "America's Grandest Victorian Neighborhood." Since the 1970s, when the National Register of Historic Places recognized the cultural and architectural significance of this neighborhood, Old Louisville has seen a steady rise in positive national and international press coverage. Today it is ranked as one of the largest historic preservation districts in the nation
Old Louisville is a transitional neighborhood located immediately adjacent to the downtown area, bounded by Kentucky Street to the north, the University of Louisville's main campus to the south, I-65 to the east, and the CSX railroad tracks on the west. Home to large numbers of college students and apartment buildings, the outer edges of Old Louisville can be very crowded, while the core district—especially around the gaslamp enclaves of St. James Court and pedestrian-only thoroughfares such as Belgravia Court—retain the charm and tranquility of small-town Victorian America.
In the late 1800s, Old Louisville emerged as a suburb for the elite of the Derby City, where bourbon barons, racetrack royalty, and titans of tobacco built impressive residences along Third and Fourth streets. Its heyday was short-lived, however, and wealthy families started moving out of the mansions in the early 1900s, leaving many to be transformed into boarding houses, cheap apartments, or business space. After World War II, the neighborhood saw a period of blight as white flight and the ravages of Urban Renewal took its toll. Today, many Victorian homes still function as multi-family dwellings, but a renewed interest in historic homes has seen a great deal of restoration in recent decades. Mansions are returning to single-family residences, and not surprising, the entire area has seen an influx of homebuyers and visitors as its fame has spread.
With more than a thousand 19-century structures spread out over some 40 square blocks, it's easy to see why Old Louisville counts as one of the most significant preservation districts in the nation. Impressive examples of Italianate, Gothic, Châteauesque, Richardsonian Romanesque, and Beaux Arts architecture make it one of the most striking Victorian neighborhoods as well. In addition to being known as "America's Most Exuberant Neighborhood," it has also gained a reputation as "America's Most Haunted Neighborhood" due to the large number of ghostly legends and paranormal hotspots. "We get local and out-of-town visitors alike, and I love showing off my old stomping grounds," says David Dominé, an author who has written books about Old Louisville to promote heritage tourism and draw attention to its potential. "More and more, tourists are discovering this fascinating neighborhood and comparing it to better-know locales such as Savannah, New Orleans, and Charleston. If you love architecture and historic homes, you need to come to Old Louisville.