David Domine's Louisville Historic Tours
Daily Historic Tours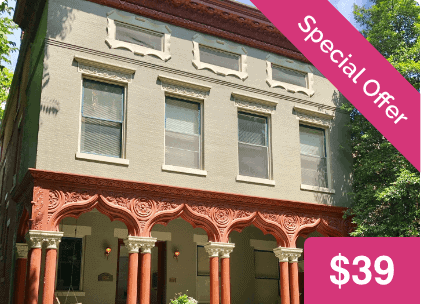 Combo Ticket
Entry for 1 person to the Architecture Tour and Ghost Tour for same or different day tours.
Ghost and Architecture Tour Information
Louisville Historic Tours is Old Louisville's oldest and most well known tour company. We've guided over 50,000 visitors through our beloved neighborhood since we established Louisville Historic Tours in 2004. For more information on each of our famous tours, please click on one of the buttons below:
Live From The Field
May 14, 2020
In keeping with local COVID-19 guidelines,
we hope to be back to our regular schedule
of guided walks seven days a week by
Memorial Day weekend. In the meantime,
we will we will be offering tours on
several select dates before then.
Find those dates by clicking here.
Live From The Field
Oct 02, 2019
*Please be advised that the St. James Court
Arts Show takes place October 4,5,6. We will
have to alter the route of our normal tours during
this time because of restricted access in the
neighborhood. This will also affect traffic patterns
and parking.*
Live From The Field
Aug 24, 2019
Sorry! Tonight's 7:30PM tour (SATURDAY,
AUGUST 24) is SOLD OUT! Text
502-718-2764 if you would like to be
wait-listed.
There is still plenty of room tomorrow night
at 7:30PM (SUNDAY, AUGUST 25)! KELLY
will be the guide. (512-565-7249)