Ghosts of Old Louisville Tour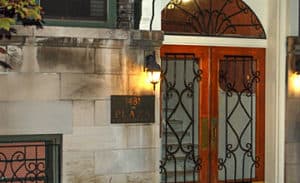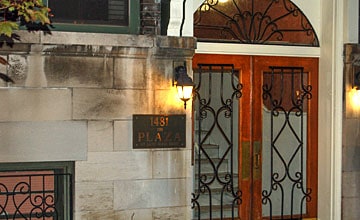 *Update for 2022 – Due to pandemic closures, we cannot offer our usual lineup of coach tour offerings until further notice.* We are still offering our Old Louisville Walking tours every day.  You can purchase Old Louisville Walking Tour tickets by clicking here.
Take an eerie jaunt through America's most haunted neighborhood with a knowledgeable guide who points out the haunted hot spots from David Dominé's bestsellers "Ghosts of Old Louisville" and "Phantoms of Old Louisville".
This charming Victorian district has romantic gas-lit alleys and splendid 19th-century architecture that make the perfect backdrop for entertaining tales of otherworldly encounters from a bygone era. Included are a short walk through beautiful Saint James and Belgravia Courts, the mansions of Millionaire's Row and a sweet side trip to the Bishop's Hat House, where Jane and Ron Harris make their world-famous Happy Balls! Bourbon Candy. Perfect for either day or evening excursions, this popular tour concludes with a dramatic visit from Alfred DuPont, Old Louisville's most famous resident haunt, in front of the stunning 1895 Conrad-Caldwell House Museum.
Price: $450 for up to 30 people
Duration: 90 minutes
Entrance to the Conrad-Caldwell House Museum: $6 per person.
Mansions and Milestones Tour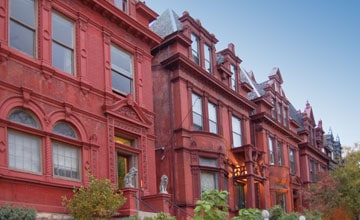 Wonderful architecture and fascinating history await participants on this narrated tour through America's grandest Victorian neighborhood. One of the largest historic preservation districts in the nation, Old Louisville boasts some 45 square blocks of charming homes and splendid mansions displaying an impressive variety of architectural styles from the late 1800s and early 1900s.
An entertaining guide shares local lore and legend as the group explores the quaint St. James Court neighborhood and learns about the famed Southern Exposition of 1883. Included is a sweet visit to Ron and Jane Harris' 1894 mansion on Millionaire's Row, where guests are treated to one of their hand-made bourbon candies known as Happy Balls! For a romantic twist, try this tour in the evening when the sun has gone down and the old gas lamps bathe this beautiful Victorian neighborhood in a warm glow.
Price: $450 for up to 30 people
Duration: 90 minutes
Entrance to the Conrad-Caldwell House Museum: $6 per person.
Moonshine and Madness Tour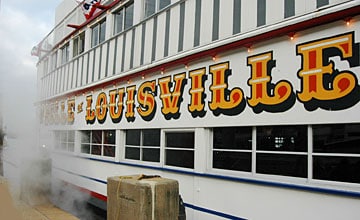 Long before Las Vegas acquired the nickname, Louisville enjoyed the dubious reputation as America's Sin City because of the decadence associated with its distilleries, tobacco houses and horse races. Today, ghostly legends from its heyday live on. Treat your group to a tour of the Old Louisville of the Roaring 20s and the Fabulous 30s when flappers, moon shiners and gangsters kept the neighborhood hopping with scandal and intrigue.
Local author David Dominé has chronicled many of these Prohibition-era stories in his popular series about Old Louisville hauntings, and an entertaining narrator is waiting to show your group the sites mentioned in his books. Sit back and enjoy a ghostly tale from a local performer and then discover the hidden charms of Floral Terrace, where a phantom from the Great Depression still lingers in the shadows. See where tobacco barons and whiskey kings made their homes. Tour also includes Happy Balls!, the homemade bourbon balls from Old Louisville, and entrance into a lovely local mansion.
Price: $450 for up to 30 people
Duration: 90 minutes
Entrance to the Conrad-Caldwell House Museum: $6 per person.
Derby City Delights Tour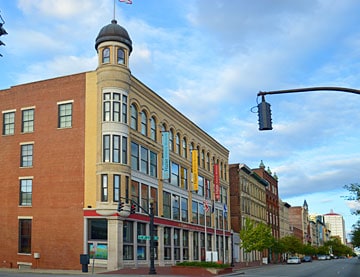 This detailed familiarization trip is perfect for those visitors who haven't yet experienced all that the Derby City has to offer. A knowledgeable Louisville guide takes your group to the shops and galleries along Bardstown Road and shows off Olmsted's Cherokee Park and the wonderful 19th-Century architecture of the Highlands before motoring past famed Churchill Downs to Old Louisville, the largest Victorian neighborhood in the country.
After a stroll through charming St James Court, participants get a sweet treat at the Old Louisville Candy Company, where Ron and Jane Harris make Louisville's favorite candy, Happy Balls!, according to an old family recipe. Downtown stops include the historic Seelbach and Brown Hotels, the new 21c Hotel and Museum, the Palace Theatre, 4th Street Live!, Kentucky Museum of Art and Craft, and the Belvedere. Guests may also view the permanent exhibit at the J.B. Speed Museum, Kentucky's premier art museum, when open. Visits to downtown sites of interest such as the Louisville Slugger Museum and Frazier International History Museum can be arranged for an additional fee. Starting lunch or ending dinner at an Old Louisville restaurant can be arranged as well.
Price: $695 for up to 30 people
Duration: 4-5 hours
Entrance to the Conrad-Caldwell House Museum: $6 per person.
The Grand Walking Tour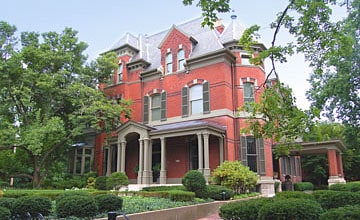 A guided foray through the most spectacular Victorian neighborhood in the country, this exclusive walking tour provides participants with an up-close-and-personal view of the impressive architecture and fascinating history of Old Louisville. On display are hundreds of quaint residences and outstanding mansions that showcase a remarkable variety of architectural styles from the late 19th and early 20th centuries.
A knowledgeable guide will share stories of local legends and colorful characters as your group discovers architectural secrets of the mansions along Millionaire's Row and the charming walking courts of the St. James neighborhood, the site of the famed Southern Exposition of 1883. Visit the 1894 mansion, home of the Old Louisville Candy Company, and sample one of the handmade bourbon candies known as Happy Balls! Also included are a theatrical visit from a costumed interpreter of the Victorian era, Olmsteds Central Park, Floral Terrace and the mansions of Ormsby Avenue.
Price: $15 per person – minimum 20 people; maximum 40.
Duration: 90 minutes
Entrance to the Conrad-Caldwell House Museum: $6 per person.
Itineraries may be subject to change, depending on weather conditions and hours of operations for various sights. Other customized tours available upon request.
Call or text (502) 718-2784 for more information.
Louisville Coach Group Tours
Let us help you make your next visit to Louisville special.
Private Tours – Available for small groups
Step-on Services – Available for your coach
Phone or text (502) 718-2764
$25
Last-minute reservations are not a problem.
Light rain? Bring an umbrella and we'll still do the tour!
Well-behaved dogs are welcome.
Seven days a week from March through November; select dates in the off-season.
Daily Walking Tours
11 am, 1 & 7:30 pm
Private Tours
Available for small groups
Step-on Services
Available for your coach
Interested in a walking tour during the off-season?
Call and we'll try to set something up for you.
Phone: (502) 718-2764
or email us