Join us for a theatrical experience from beyond the grave as the porches and parlors of Old Louisville come alive with spirits from the past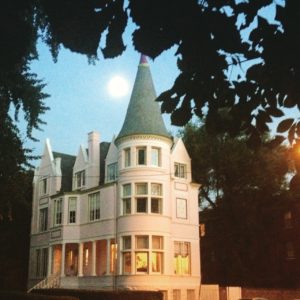 ***UPDATE for 2023 – TICKETS ON SALE NOW***
Three Days Only.  October 20th, 21st, and 22nd of 2023.
Click here to purchase Victorian Ghost Walk® tickets. 
(For our daily Louisville Ghost Tour tickets, please click here.)
David Dominé's Victorian Ghost Walk® celebrates America's Most Haunted Neighborhood with a cast of real-life characters who return from the grave to tell their stories.
Simon Kracht, the infamous resurrectionist who stole just-buried corpses for the city medical college; millionaire Alfred Victor DuPont, who died at the hands of a scorned mistress, at least according to legend; Lucinda, the grief-stricken lunatic who proclaimed herself "Queen of America" in 1885 – these are just some of the ghosts waiting to entertain you this year.
"My family and I had a ball on David Dominé's Victorian Ghost Walk® through Old Louisville in October! With fascinating historical info about the neighborhood, creepy stories, and humor, it was a spooky-good time on a lovely autumn evening. We'll definitely be back!" ~ Matt Wallace, Producing Artistic Director, Kentucky Shakespeare
Tours start at 6PM and depart every 15 minutes, lasting for two-hours.
Part walking tour, part porch play, David Dominé's Victorian Ghost Walk® brings together local acting talent to showcase the Old Louisville Preservation District and raise funds for neighborhood organizations.
Tours last under two hours and start and end at the Conrad-Caldwell House Museum on St. James Court at Magnolia Ave.
When purchasing tickets please pay attention to the  time slot you are choosing and treat your tour tickets as you would theater or concert tickets. IF YOU MISS YOUR TOUR, THERE ARE NO REFUNDS. If you arrive late and the group has already departed, it is up to you to find your guide. This is a rain or shine event.
If you are looking for a dinner spot before or after your tour, consider Buck's Restaurant or Old Louisville Tavern, both are just a couple of blocks away. If you're looking for accommodations in Old Louisville, please book a room at the Dupont Mansion bed and breakfast, the Louisville Bourbon Inn, or the Central Park Bed & Breakfast.
This year's tour is directed by Keith McGill and benefits the South Fourth Street Association.
The Victorian Ghost Walk is an annual production of outdoor theater that celebrates the ghostly past of "America's Most Haunted Neighborhood" amidst a stunning backdrop of gas-lit walkways and beautiful mansions. Written by David Dominé, this progressive porch play brings together a wide variety of talent and visitors every year in October as the Old Louisville historic district becomes a stage where haunted history comes to life.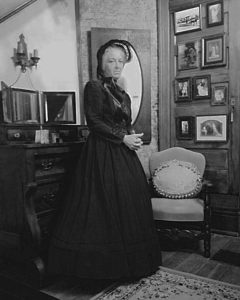 A brisk fall day is the perfect time to stroll the streets of Old Louisville. An overcast sky overhead and dead leaves underfoot – and just enough chill dampness in the air to make you pull your coat tighter around you…this is the best time to amble along the old streets and alleys, admiring the imposing Victorian architecture while the smell of apples and wood smoke spices the air. The boxwood hedges surrounding the mansions and townhouses still have their summer green, but most of the towering trees have lost their leaves and can only rattle bare branches to protest the gathering winds. If you're lucky, you might pass one of the old gas lamps at just the right moment when dusk reluctantly surrenders the last of its daylight to night and hear the click and hiss of the lantern coming on in a feeble attempt to ward off the dark. This is the time that ghosts start to wander the streets of Old Louisville.
Along the way you'll meet goblins and the Witch at the Witches' Tree, were a neighborhood witch from the 1800s shares the tale of how a curse led to its gnarled and twisted appearance; The Stick Witch, a crazed old hags jealously guards a cart full of sticks in the park; Jennie Bowman, a ghost of a young Irish woman who returns to tell the sad tale of a deadly encounter; Annie Whipple, who's spirit returns to the mansion to warn against the dangers of trying to communicate with the dead; Lady Ross, a phantom who returns to her childhood home to recount the details of her unhappy marriage to an aristocrat.
Call or text: (502) 718-2764 for more information.
Last-minute reservations are not a problem.
Light rain? Bring an umbrella and we'll still do the tour!
Well-behaved dogs are welcome.
March 15 – November 15
Daily Walking Tours
11 am, 1 & 7:30 pm
Private Tours
Available for small groups
Step-on Services
Available for your coach
Interested in a walking tour during the off-season?
Call and we'll try to set something up for you.
Phone: (502) 718-2764
or email us