America's Most Exuberant Neighborhood Tour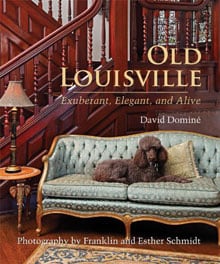 Since it was declared a historic preservation district in the 1970s, many have considered Old Louisville one of the most architecturally exuberant neighborhoods in the country. With more than a thousand old homes, it's one of the largest as well. Constructed primarily between 1880 and 1905, the residences in Old Louisville showcase a wide variety of building styles, including Châteauesque, Richardsonian-Romanesque, Italianate, Victorian Gothic, and Queen Anne – just to name a few.
If you like old homes and fabulous architecture, this is a tour you won't want to miss. A knowledgeable guide will share stories and architectural details while you walk the neighborhood and view its most impressive structures. At the same time, you will learn about the bourbon barons, racetrack royalty, and tobacco titans who lived there and hear the stories of how they and other colorful characters made this historic district America's Most Exuberant Neighborhood.
Offered daily at 11:00 am and 1:00 pm, allow approximately 90 minutes for this walking tour. $25 per person. This tour stops in front of many of the homes featured in David Dominé's book Old Louisville: Exuberant, Elegant, and Alive. You may buy that book and others here.
Relive the past on one of our award-winning tours of Old Louisville – America's Grandest Victorian Neighborhood!
Discover the architectural and historical treasures in one of the nation's largest historic preservation districts – Old Louisville! Long known as "America's Grandest Victorian Neighborhood", this stunning 45-square-block area lies directly south of downtown Louisville and boasts well over 1,000 old homes, churches, and other buildings today. Built primarily between 1885 and 1905, these structures create a veritable time capsule of late-Victorian and early twentieth-century architecture, its broad avenues and quiet courts lined with notable examples of Gothic Revival, Richardsonian Romanesque, Queen Anne, Italianate, Chateauesque, Second Empire, and Beaux Arts dwellings that typify the style and elegance of the Gilded Age.
Daily walking tours from March 15 to November – as well as private tours and receptive tours for your coach – will help you discover the charms of this beautifully embowered space in the heart of Kentucky's largest city. City-wide tours available as well.
Specializing in Old Louisville – daily walking tours of America's Grandest Victorian Neighborhood at 11AM, 1PM, 7:30PM from March 15 – November 15.


A GPS of "1300 South Fourth Street" will help you arrive, but do not go inside the actual building. All walking tours start and end in front of the brown "Welcome to Old Louisville" sign at the corner of South Fourth Street and West Ormsby Avenue, which is a block north of Central Park. Because of a recent fire, we no longer meet at Smokey's Bean coffee shop. Call or text: (502) 718-2764 for more information.
Ample street parking is usually available. If you are looking for a lunch or dinner spot before or after your tour, consider Buck's Restaurant at 425 West Ormsby or Amici Cafe at 316 West Ormsby. They're just half a block away, as are the Dupont Mansion Bed & Breakfast and the Louisville Bourbon Inn.
Last-minute reservations are not a problem.
Light rain? Bring an umbrella and we'll still do the tour!
Well-behaved dogs are welcome.
March 15 – November 15
Daily Walking Tours
11 am, 1 & 7:30 pm
Private Tours
Available for small groups
Step-on Services
Available for your coach
Interested in a walking tour during the off-season?
Call and we'll try to set something up for you.
Phone: (502) 718-2764
or email us.