The Witches' Tree in Louisville: A gnarled and twisted tree in a famed Louisville neighborhood has become something of a tourist attraction. The unlikely reason? Its spooky connection to a forgotten side of Derby City history, a time when practitioners of the dark arts used to meet under the craggy branches to cast spells and exact revenge. Today, the wooden landmark lures visitors from around the world, and they're eager to hear about something dubbed "the Storm Demon" by the Courier-Journal in the 1880s. The Witches' Tree is included on our Ghost Tour, click here to purchase tickets. 
According to legend, a majestic maple tree that stood at the corner of Sixth Street and Park Avenue in Louisville once served as the favorite gathering spot for witches and voodoo practitioners. But in 1889, they weren't the only ones interested in the tree: city festival planners announced they would chop it down for the annual May Day celebrations. Despite warnings from angry witches, authorities felled the tree and erected it as a maypole. In retaliation, the coven brewed up a tornado that destroyed much of Louisville. Churning down the streets, the cyclone destroyed mansions, schools, bourbon and tobacco warehouse, churches and the railroad station. In the end, well over 100 people lost their lives, including members of the planning committee. As the twister roared out of town, a bolt of lightning blasted the stump and a knotted tree sprang up to replace the old one.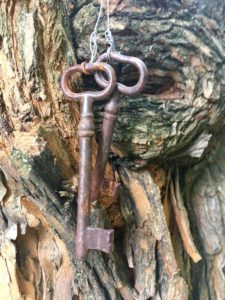 In Louisville, it has become custom to visit "the Witches' Tree" and leave trinkets and tokens for good luck. On any given day, groups of visitors might be found at the corner of Sixth and Park, staring up into the craggy branches. Colorful beads dangle from dead limbs, as do an assortment of charms and amulets, all left as attempts to curry favor and assure witches their tree is safe today.
Susan Shearer, a tour guide for Louisville Historic Tours, leads visitors to the Witches' Tree on daily walks through the neighborhood. "It's wonderful to see people's eyes light up when they hear the tree's story," she says. "Many come back later with gifts. They leave things like old horseshoes, skeleton keys, crucifixes, and candles, but most often it's colorful beads. The higher up in the branches you throw them, the better luck you're supposed to have." The Witches' Tree has its own Facebook page where good luck spells thank those who leave gifts. And curses appear for those who steal baubles.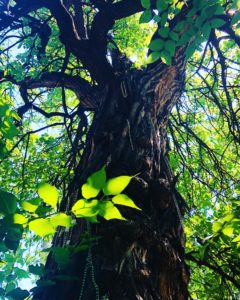 Author David Dominé popularized the tree in his memoir, Voodoo Days at La Casa Fabulosa, an "unconventional memoir" about his time living in a reportedly haunted house in the neighborhood. "Old Louisville is an incredible place for those who love Victorian architecture and spooky history. The Witches' Tree is just one of several locations that has been attracting tourists in the neighborhood," he says. "Many of my books came about as an effort to bring attention to Old Louisville, and it's great to see our efforts in promoting heritage tourism paying off." Dominé also leads tours for Louisville Historic Tours, which The New York Times recommends as the first thing not to miss during a visitor's "36 Hours in Louisville."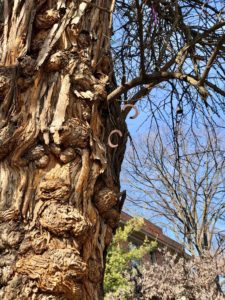 Louisville Historic Tours specializes in guided tours of Old Louisville. With more than a thousand 19-century structures spread out over some 40 square blocks, Old Louisville counts as one of the largest historic preservation districts in the nation. Impressive examples of Italianate, Gothic, Châteauesque, Richardsonian Romanesque, and Beaux Arts architecture make it one of the most striking Victorian neighborhoods in the country. In addition to being known as "America's Most Exuberant Neighborhood," it has also gained a reputation as "America's Most Haunted Neighborhood" due to the large number of ghostly legends and paranormal hotspots. Get more information at 502-718-2764 or louisvillehistorictours.com/